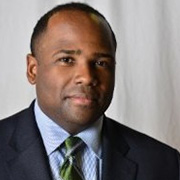 Elijah J. Williams has spent his career working to solve critical challenges in Government, Business, Community, and Policy, while fostering atmospheres of collaboration and building coalitions to achieve results. He most recently served in the Obama Administration at the U.S. Small Business Administration (SBA) and at NASA Headquarters in Washington, D.C. At the SBA, his responsibilities included managing a $90 billion dollar federal small businesses supply chain, reshaping SBA's socio-economic programs and customer service standards, while leading the creation of small business friendly policies.
Prior to his two Presidential Appointments, Mr. Williams had extensive career experiences with NASA as the Senior Legislative Liaison for Marshall Space Flight Center in Huntsville, AL, and Johnson Space Center in Houston, TX. During this time, he worked to cultivate relationships within the U.S. Congress and with state and local elected officials in Alabama, Louisiana, and Texas. Earlier in his career, Mr. Williams served as a Contracting Officer at NASA Johnson, with responsibility for leading the development of business strategies, and conducting contract analysis and negotiations of multi-billion dollar federal contracts and agreements. As part of this role, he helped to facilitate the creation of a new commercial space market.
Mr. Williams has earned degrees from Xavier University of Louisiana and Texas Southern University, while also earning a legislative certification from Georgetown University. He is a Co-Founder of the Houston Black Leadership Institute, which is an intentional development program for the next generation of African American leadership in the City of Houston that is affecting social and economic problems facing communities. Mr. Williams has served on the Board of Directors of the Houston Area Urban League, the National Board of the National Urban League Young Professionals, including as President of the Houston Chapter, and as a member of the National Finance Committee of the American Society of Public Administration. He is a member of Alpha Phi Alpha Fraternity, Incorporated, and is a graduate of the President's Leadership Workshop (The White House), the National Urban League's Emerging Leaders Program, and Leadership Houston, Class XXX.