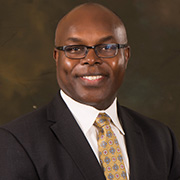 Darryl Montgomery, a 34-year veteran, moved to Houston in July 2015 to lead Wells Fargo's Community Banking organization for the Greater Houston Region.
Montgomery is responsible for more than 180 Community Banking stores with more than $17.5 billion in assets. He leads an engaged team of more than 2,300 team members. Montgomery reports to John Sotoodeh, Southwest regional banking executive.
In a consumer lending and banking career that has spanned more than three decades, Montgomery has served in many capacities. He joined Wells Fargo Financial in Alabama as a credit manager in 1982. Over the years, Darryl assumed a variety of roles with increasing levels of responsibility, while keeping a keen eye on helping customers achieve their financial goals and mentoring team members to realize their potential.
Prior to his most recent position, Montgomery was the area president of the Eastern Gateway Division in the Greater Los Angeles Region of Wells Fargo's Community Bank where he was responsible for business results, partner relationships, community relations, team member development and brand appreciation. He was responsible for 746 team members across 49 stores.
Prior to that, Darryl served as a division manager for Wells Fargo Financial where he managed 950 team members at 210 stores across 12 states plus Guam and Saipan.
Montgomery attended the University of Alabama—Birmingham and Southern Business College, where he earned a degree in computer science. He also completed the African American Leadership program at the UCLA Anderson School of Business.
Darryl serves on the board for Central Houston and Collaborative for Children.