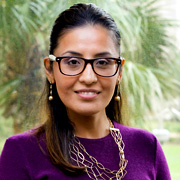 Ms. Imelda Wicks has a bachelor's degree in communications from the University of Texas at Brownsville and a master's degree in cross-cultural studies from the University of Houston-Clear Lake. She has experience working for non-profit organizations, Human Resources, Higher Education, healthcare, and diversity and inclusion.
She has taught diversity courses as adjunct at the University of Houston – Clear Lake and received from this institution the award of Outstanding Master Thesis, while working on her master's degree.
She currently works at the University of Texas Medical Branch (UTMB) in the Department of Human Resources as Diversity and Inclusion Consultant. She oversees the Affirmative Action Plan and the Office of Diversity and Inclusion. She is Chair of the Diversity Council and the Employee Resources Groups at UTMB. She has been recognized by her peers with the "Going the Extra Mile" employee recognition GEM nominations over nine times in less than two years.
Ms. Imelda Wicks is a constant speaker at local, regional and national conferences. She is an emerging leader and dedicated professional.
In her spare time, she teaches piano and volunteers at her church. She lives with her loving husband, Paul, and her rescue dog.