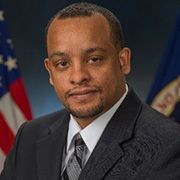 Kai Harris has been with NASA for 7 years and has been an active member in the African American Employee Resource Group (AAERG) for the last five years, the first year as a member of a committee team, the next two years as a committee chair, last year he was elected as the Executive Assistant, and this year he serves as the Chair-Elect.
In these roles, Kai was responsible for putting on events such as Keeping It Real, Coach's Corner, setting up Professional picture day, communicating with HQ to set up My Brother's Keeper week at the Lab, and helped the AAERG perform outreach to over 1,000 students in FY16 and over 10,000 in FY17 while also helping support all of the other AAERG events. Kai was also selected to be on the Crossroads television show in 2016 to represent the AAERG and NASA to the general public and was featured in a My Brother's Keeper video filmed by the Houston Mayor's office in 2017.
Since beginning his NASA career, Kai has been involved in several leadership groups in an effort to continuously develop his leadership skills. These groups include the Leadership Development Working Group (LDWG), Leadership Enrichment and Development (LEaD), as well as NASA Foundations of Influence, Respect, Success, and Teamwork (NASA FIRST).
Kai works as a Senior resource analyst in the Office of the Chief Financial Officer. He is currently supporting the Propulsion and Power Engineering Division (EP) where he has helped them become more efficient and strategic in their resource decisions. Prior to coming to EP, Kai was the lead resource analyst for External Relations (AD) where he was a valued member of their financial decision-making team. Kai has also gone on a detail to the NASA HQ Office of Education and been the resource analyst for the Advanced Planning office (currently known as the Strategic Partnerships Office), the Information Resources Directorate (IA), and the Human Resources Office (AH). Kai has a Bachelor's of Business Administration in Accounting from California State University – Dominguez Hills and a Masters of Business Administration from the University of Houston. Most important to him, Kai is married with three children and helps coach his two oldest sons in both soccer and basketball.