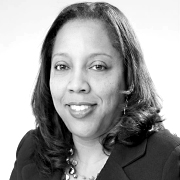 Kimel Hodges is the Assistant Vice President of Diversity & Inclusion and Equal Opportunity at the University of Texas Southwestern Medical Center in Dallas, Texas. She joined UT Southwestern in September 2012 and oversees several divisions including Diversity & Inclusion, Equal Opportunity, and Supplier Diversity/HUB.
Kimel leads the development of the organization's Diversity and Inclusion strategies by providing and coordinating leadership for diversity issues institution-wide. She oversees the Affirmative Action Planning as well as other internal processes for promoting and ensuring compliance with laws, regulations, organizational policies and contracts investigations of discrimination, harassment or retaliation. Kimel also provides strategic direction in the development of initiatives for the Supplier Diversity/Historically Underutilized Businesses (HUB) program, and enterprise-wide Minority, Women, Service Disabled Veterans Business Enterprise (MWSDVBE).
Before joining UT Southwestern, Kimel served as Director of Diversity & Inclusion at CHRISTUS Health. Prior to that, she had over 10 years with the Kellogg Company in various leadership positions including Diversity Business Partner, EEO/AA Manager, and Human Resources Manager in both the corporate and manufacturing.
Kimel is a member of several executive committees at UT Southwestern, and represents the Institution at various community events. Kimel is involved with the Youth Motivational Task Force (YMTF) at the University of Arkansas Pine Bluff, where she serves on the planning committee. She also is a member of the American Heart Association's Compensation, Benefits and Human Resources Advisory Committee and a Board member of the Alfred William (A.W.) Harris Faculty-Alumni Center Corporation.
Kimel earned a bachelor's degree from Western Michigan University, and master's degree in Human Resources Management from Central Michigan University. Kimel also holds Certified Diversity Executive (CDE) credentials from the Society for Diversity and a Senior Certified Affirmative Action Professional (Sr.CAAP) from the American Association for Access, Equity and Diversity (AAAED).