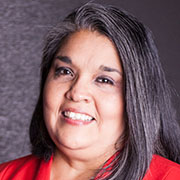 An employee with AT&T with 32 years of service, Lollie runs a team of trend analysts located across the US, Slovakia and the Netherlands. She manages the overall success of her organization by closely monitoring performance measures and driving for desired results. Her specialty is in improved efficiencies, work sizing and cost/business case justification.
A member of several AT&T Employee Resource Groups for 25 years, Lollie assumed the leadership of the Women of AT&T Houston chapter as CEO and President in 2015. Under her direction, the WOA-HOU has grown their organization by 40% since January of 2015. They have also increased their community engagement or volunteer hours by almost 500%, while tripling the number of engaged members. These efforts helped almost double the number of AT&T Presidential Volunteer Service Award winners in the Houston area for 2015 & 2016. Lollie herself has earned the Bronze award in 2013, the Silver award in 2014 and the Gold award for 2015 & 2016.
Leveraging the combined forces of her peer AT&T ERG groups, Lollie has delivered on several key projects in our community, including a sixth grade after-school apprenticeship at two inner city middle schools with Citizen Schools and rebuilding homes for two senior women. In 2016, she was recognized as AT&T Manager of the year for the Houston area by Women of AT&T.
A life-long Texas resident, Lollie is an alumni of the University of Texas in Austin and grew up in San Benito, a small town in South Texas. She has lived most of the past 32 years in Houston and is married to Dave, also a manager with AT&T. They have no children but many nieces and nephews that they are very close too.